News and Events
VBS returns for 2021!!!! July 26-30 10 am until noon.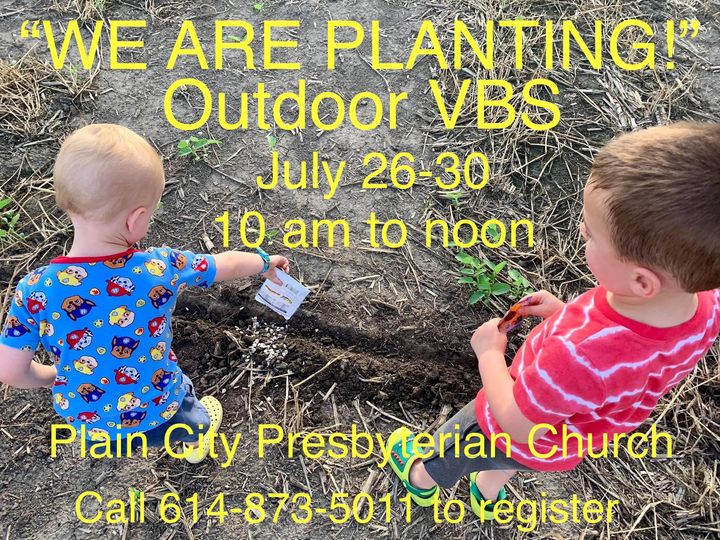 Since we will be outdoors, all of our activities will center on nature and the wonders that fill the world God has made for us. We will also bring in the ideas of protecting God's world, planting the seeds of the Good News and growing in our faith. Bible lesson, games, crafts and SNACKS!! Ages 4 through grade 6. Lots of fun!Call the church (614) 873-5011 to register or on-line at
https://vbsmate.com/events/PCPRESBYTERIANPCOH/20720
Church Info:
WE ARE IN THIS TOGETHER! We are donating monthly to the Plain City Food Pantry to help with the additional need in the community.
MISSION TRIP: The Mission Trip group had a great week at Point Pleasant, WV. They worked on building a ramp to a home. Having traveled there several years, they enjoyed the friends they have made in previous years and making new ones. Not only did they share their carpentry skills, but they shared the love of Jesus with the people we met. We joined teams from the Dublin and Marysville Presbyterian churches for this outreach experience. THEY PLAN ON RETURNING THIS SUMMER DEPENDING ON VIRUS SITUATION. Thank you to everyone who helped with the road clean up for mission funds!
OUR SCRIPTURE VERSE FOR THE YEAR - On Sunday, January 3, we celebrated Epiphany (Jan. 6). You will have the opportunity to get a special Scripture passage for the year. Since you can't be in worship at the church to pick one out of a bag or have it attached to your bulletin, we will use a different method. Choose a number between 1 and 100. Send your number to Alice either by text (740-391-2531) or by email revalp@neo.rr.com, and Alice will send you your verse for the year.
MONDAY NIGHT BIBLE STUDY:Rev Alice is having short weekly Bible Studies If you are interested , let Rev Alice know! We would love to have anyone join us! Invite a friend!
-ON SUMMER BREAK
GENTLE SPIRIT SUPPORT GROUP SUSPENDED TEMPORARILY: Are you or a family member struggling emotionally with cancer and its treatments or life after treatment? Come join Gentle Spirit, a Christian emotional and spiritual support group for help during this difficult time. Reverand Alice and Beth Beach, both cancer survivors, are co-facilitating this group at the montly meeting. There will be a light supper donated by Der Dutchman, a time of sharing, fellowship, a short Biblical meditation and prayer. The group will also begin working on no sew fleece blankets to be given away to those dealing with extended illnesses. See the calendar or call the office for the next scheduled meeting.