BE the Church Sunday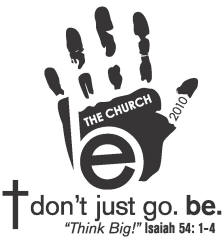 The 2011 BE The Church Sunday will be held on Sunday, September 4, 2010 (Labor Day weekend). We continue to rejoice in the success of the last 2 year's events, and are hopeful of the many blessings we'll see as a result of next year's work. Visit www.bethechurchplaincity.org for more information.
BACK TO SCHOOL CLOTHING DRIVE: As we plan the projects for the 2011 BE the Church Event, we would like to let you know about one of the projects early so that we can add to the services already in effect for making a huge impact in our community. the last couple of years, "Be the Church" has provided multiple drives, collections and donations. These have all been wonderful opportunities to serve and to help those in need. This year we are looking at maximizing our efforts by providing a donation collection project that will provide clothes for children as they start back to school. We will be collecting items of clothing for kids from preschool through 12th grade. Labor Day weekend families will be scheduled to work with a coordinator to the needed clothes for their children. We are hoping that by working together, the churches of Plain City can help families clothe their kids for the upcoming school year.
"I needed clothes and you clothed me . . . I tell you the truth, whatever you did for one of the least of these brothers of mine, you did for me." Matthew 25:26a, 40
Items to collect:
New or gently used kids shirts, short or long sleeves

New or gently used kids sweathers and sweat shirts

New or gently used kids shorts

New or gently used kids pants

New or gently used girls dresses/skirts

New or gently used jackets and coats

New or gently used shoes

New (packaged) under garments

New (packaged) socks
BE THE CHURCH T-SHIRTS: Again this year we will take orders for the "Be the Church" Sunday. Orders must be in the PC United Methodist Church office by Monday, August 8th at 9:30 am.
Money is due at the time of order
T-shirts are dark blue with white logo on back and in pocket area on front
Standard t-shirt sizes ar $5.00
Adult 2XL, 3XL, and 4XL are $7.00
BE THE CHURCH BLOOD DRIVE: Sunda, September 4th from 9:00 am to 3:00 pm you are encouraged to participate in the American Red Cross Blood Drive as part of our "Be the Church" activities. The Bloodmobile will be at Pastime Park. Come to donate and receive a buy one/get one free coupon to the Columbus Zoo and Aquarium and enter to win
Gas for a year from Marathon
A weekly drawing for a $50 Marathon gas gift card
A weekly drawing for four passes to Zoombezi Bay.
To schedule an appointment to give, call 1-800-RED-CROSS, 1-800-733-2767.