Groups and Missions
There are many ways to get involved at Plain City Presbyterian Church. Several groups, including Presbyterian Women and Kumjoinus, offer fellowship opportunities with other church members. Volunteer opportunities include teaching Sunday School and Children's Church, and serving a meal at Faith Mission, among others. The Church also supports many missions of the Presbyterian Church USA such as the One Great Hour of Sharing and Joy offerings.
Group and Mission Opportunities
Youth Activities:

Activities available for youth include: Sunday School, Worship Time for Kids, Youth Group, an annual Confirmation Class, Acolytes, and Vacation Bible School.
Presbyterian Women:

Presbyterian Women is the national women's organization of the Presbyterian Church (U.S.A.). With a history of more than 200 years and more than 300,000 members, PW is organized at all levels of the Presbyterian Church (U.S.A.). More info.
Mission Opportunities: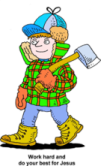 Mission opportunities include: Serving meals at Faith Mission, participating in the Christmas Basket Program, the annual Mission Trip, Be the Church Sunday and many other options.
Kumjoinus:

KUMJOINUS meets at 6:30 p.m. on the first Saturday of the month at the home of one of the members. All members of the church are invited to "come join us" for an evening of rollicking fellowship and food. Just bring your own table service and a potluck dish or two to share.